This page is not part of the real Mal and Chad universe.
This means that it is either part of real life or shouldn't be be considered part of Mal and Chad.
Stephen McCranie is the author of Mal and Chad.
Biography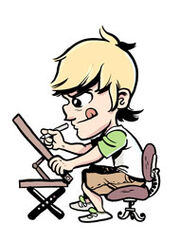 Stephen McCranie has been drawing comics since before he could read or write. He graduated from the University of New Mexico with a degree in Fine Arts and currently lives and works out of a small apartment in Albuquerque, New Mexico. He contributes to the comics anthology Parable, and is also working with Philomel Books, an imprint of Penguin, to create a children's comic book series featuring Mal and Chad.
Trivia
He has multiple websites, including doodlealley.com and malandchad.com.
He has skyped with a school classroom.
Ad blocker interference detected!
Wikia is a free-to-use site that makes money from advertising. We have a modified experience for viewers using ad blockers

Wikia is not accessible if you've made further modifications. Remove the custom ad blocker rule(s) and the page will load as expected.